The fifth season of Mnet's rap survival show "Show Me The Money" started on May 13th. The show features producers Illionaire Records: Dok2 and The Quiett; YG Entertaiment:  Kush and Zion T.; AOMG: Simon Dominic and Gray; Gill of Leessang and Mad Clown.
As big fan of SMTM, Mad Clown, and AOMG stan i was already super excited for season 5 as soon as i read news about producer teams. Among 9,000 contenstants who auditioned for this season some familiar faces came back in the show and made things more interasting.
As usual auditions were open and contestants did acapella rap. Here in  r1 *round 1* we saw some great performances but there were not that great and wierd performances also.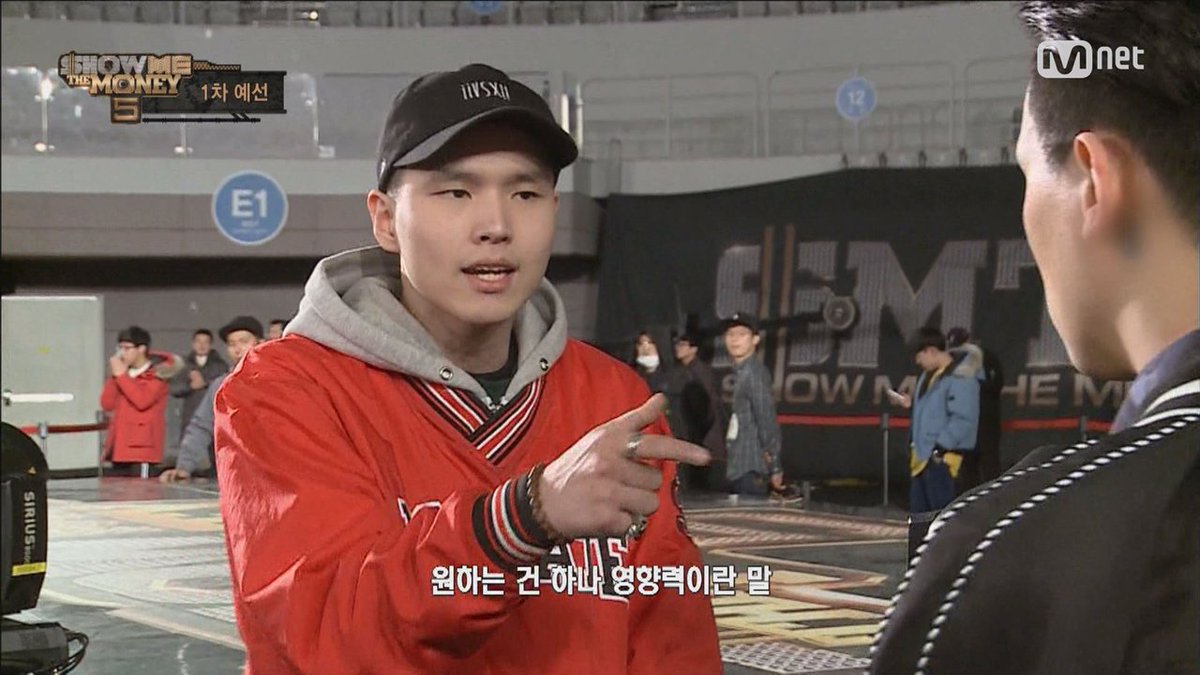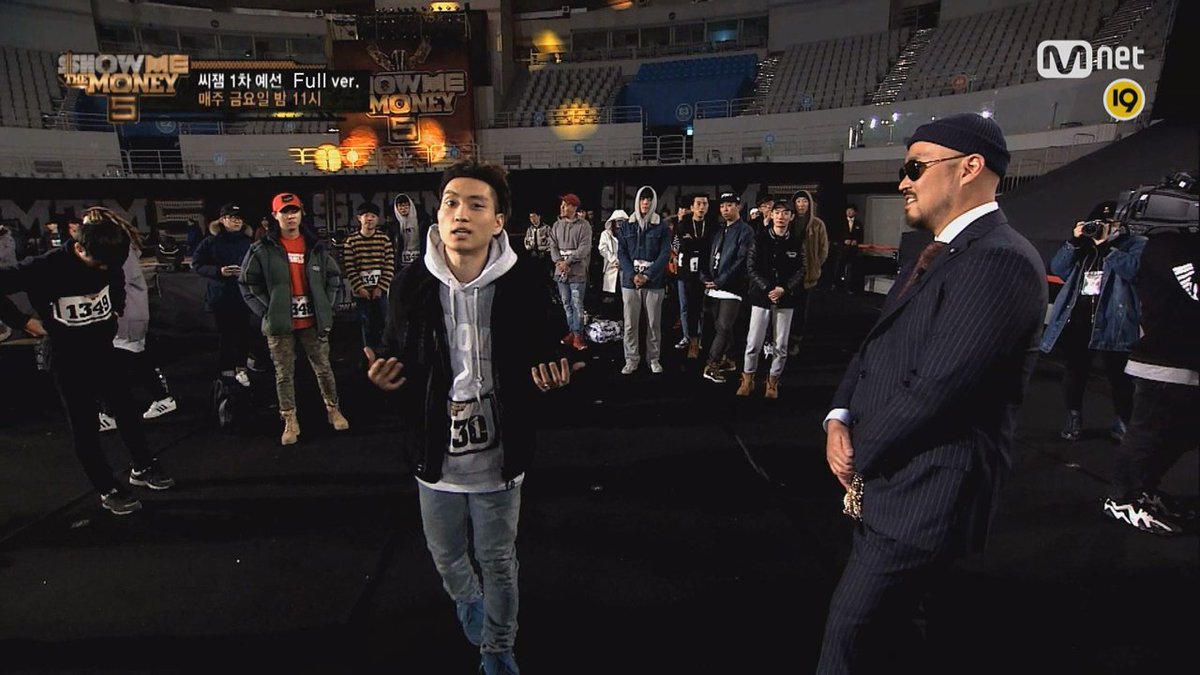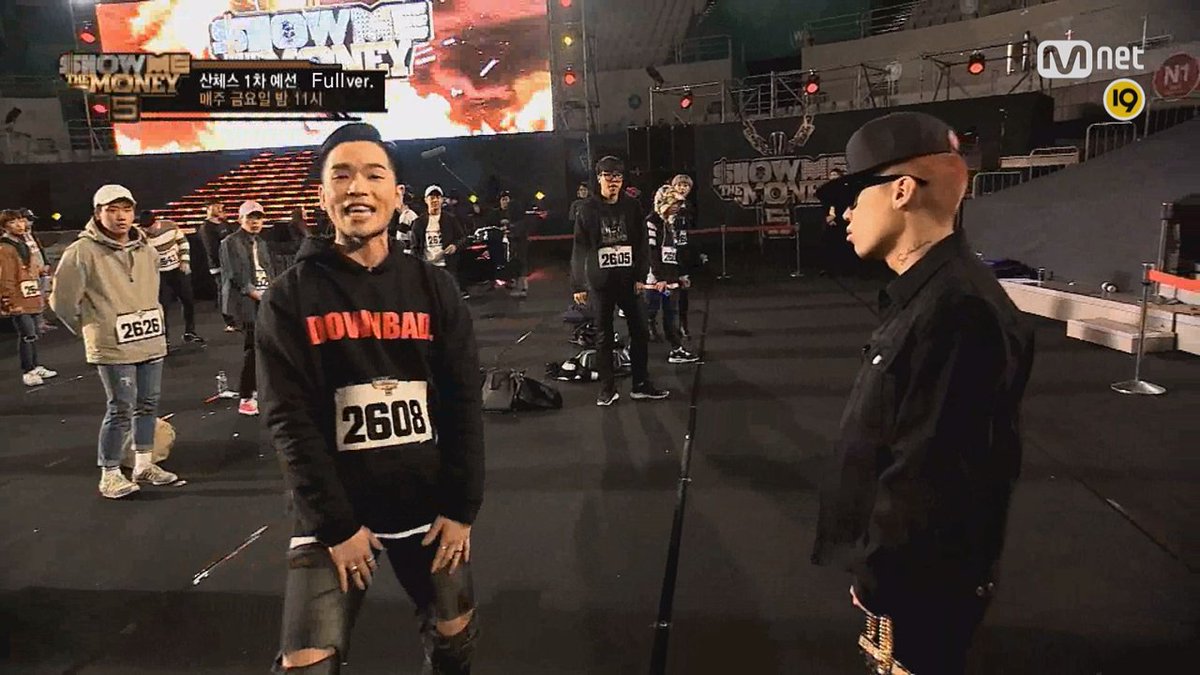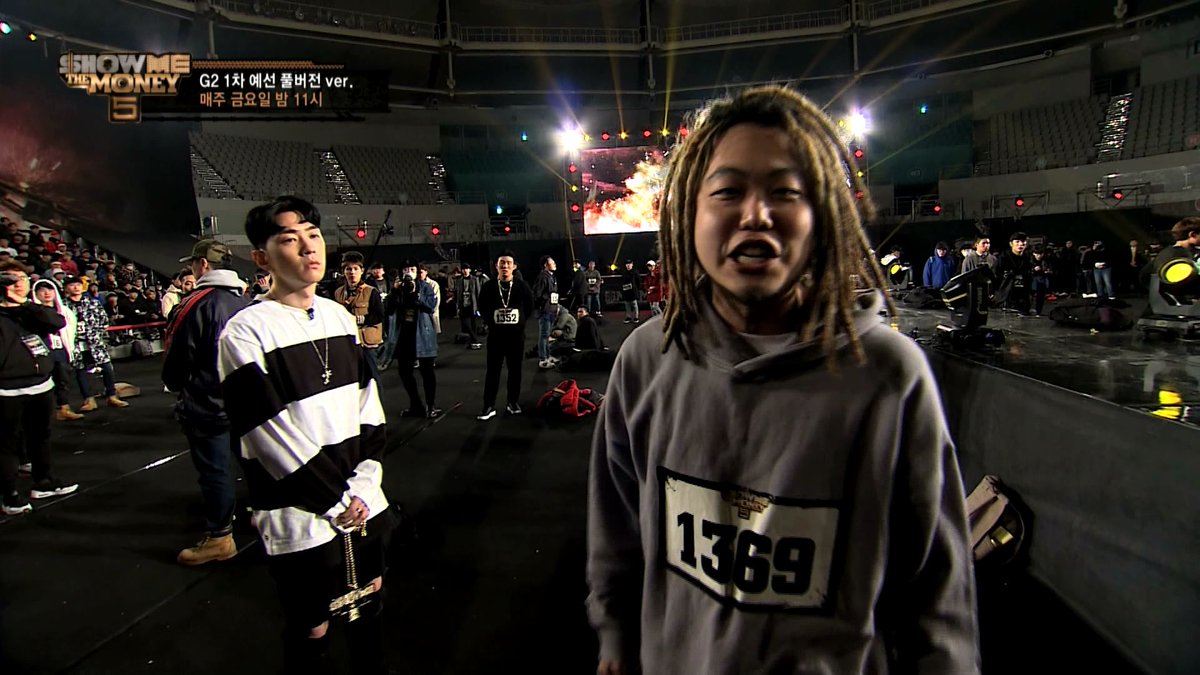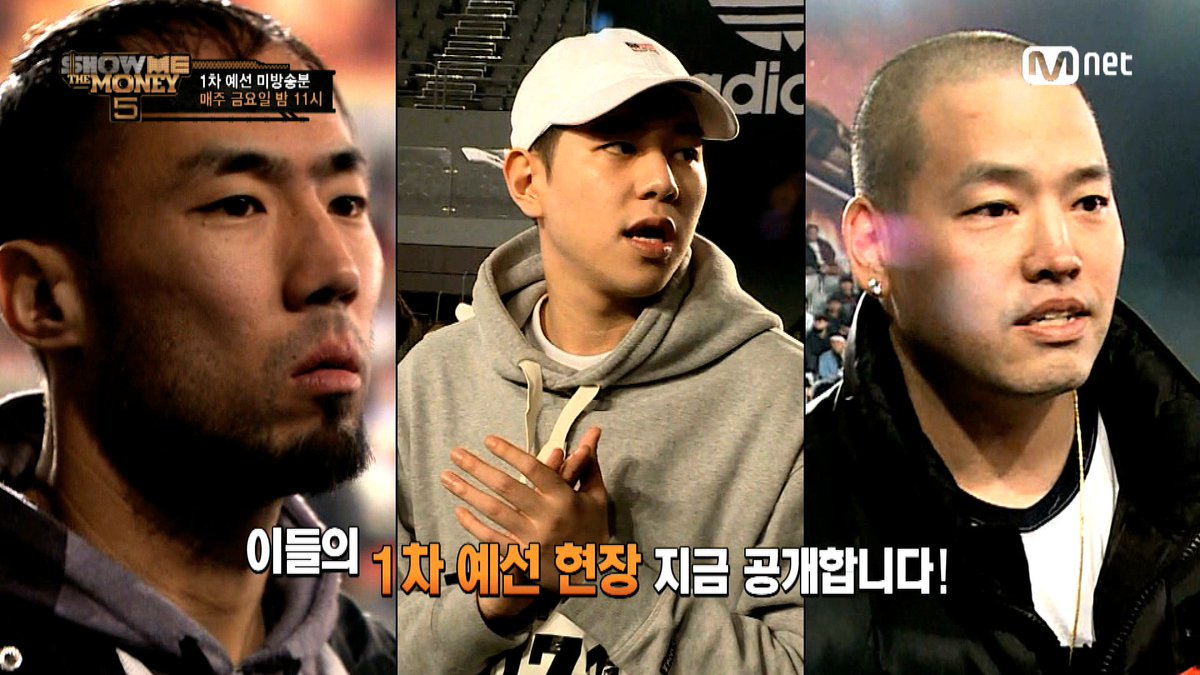 The thing that surprised me the most was G2's passing. Dude made mistake after mistake but Gray gave him necklace anyway. R1 was stressful for most of the contestants while C Jamm, BewhY, Xitsuh *Seo Chul Goo* showed up nailed their rap, and walked out with necklace like pros.
Episode 2 was more interasting (i`ll just point out few things I remember and was impressed with). In round 2 contestants have to prepare 1 minute rap using beat of their choice. They rap in front of the judges and in order to pass onto the next round they need to get at least one pass from the producers.
This time ( and probably one and only (singing won&only while writing)) G2 did good job, he remembered his lyrics and rapped flawlessly getting ALL PASS.
My favourite stage in r2 *round 2*  was Myeondo`s rapping. I wiggled, jumped and repeated his moves like michinnyeon *crazy girl*.
Ofc he got ALL PASS (too bad i liked him for just 1 round).
Jung Sangsoo made his return to Show Me The Money but not for too long. His stage was fun but the best thing here were producers acting all cute showing hearts and using satoori *accent*.
My 2nd favourite performance and one of my favourite contestants C Jamm. As person who received hate galore for applying for SMTM again he did laid-back performance and got ALL PASS.
Korean Jay Z, BewhY had impressive stage. He swept everything in front of him and gained ALL PASS.
Beside being rap fan and fangirl I`m normal girl who cares about fashion. So while trying to focus on Reddy's rapping i was distracted by his clothes and kept thinking "what d pak is he wearing?!" tho the rap was good.
Round 2 ended with some unreasonable fails and passes. While asking myself why did they give PASS to Woo Taewoon, Snacky Chan, Xitsuh, #GUN, J'Kyun in spite of bad staging (two of them are in top6 now) I realized I was giving myself a headache for no reason.
In episode 3 we are back to auditions. For the first time SMTM held auditions in LA *Los Angeles* as addition to audition in Seoul. Guest judge in R2 LA  auditions was Timbaland.
I seriously LOLed so hard when I saw surprise contestant in LA. Superbee, that sick kid is back!😄 He poped up with silly smile and lame hi 😂😂😂 After dissing Tablo he decided to act all nice in 5th season. Ofc he got ALL PASS and I`m overjoyed that he is back.

Then, HE showed up, got ALL PASS and two crazy fangirls. Me and Oni went numb and dumb watching him and were excited for his next performance. Junoflo. ( i`m fangirling again watching this video 🙈🙈🙈 )
Boy I liked the least in LA (beside Miss LA) KillahGramz passed as well. Somehow there's something about him I really don't and will never like. Sorry Killah fans, but I find his voice annoying.
Before talking about last guy i want to mention let's say few about two girls who progressed in this audition.
Personally, even tho I am all for GIRLS POWER, I was so turned off by Miss LA and TeMo I have no idea what judges saw in them. TeMo was slightly better than Miss LA but not good enough. Their rap style is totally cheap, even my granny can do what this two did. Anyway TeMo rolled onto next round but due to personal reasons she dropped and Miss LA jumped in instead of her.
Guy who made BOOM, got ALL PASS and was Timbaland's fave, Flowsik.
I didn't like him at first but i think that even someone indifferent could not stay cold while listening to him, sooo now i`m his big fan.
Five LA contestants with Miss LA as TeMo's substitution flew to SK *South Korea*.
Back in Korea contestants did cyper to assess each others skills and decide whom to choose for 1 vs 1 *one on one* battle. This season had no revival round in compared to previous so that was a blow. We had to deal with the fact that if someone we like is defeated he won't be back (which happened later but we survived).
First cyper did group with terrible grades *one pass*
After that poor grades group *two pass*
Then group with fair grades * three pass*
And at last good grades, all pass
American rapper Superbee slayin xD
Bannyah's monologue:
Season 5 is wanjeoooon daebak. It pleases everyone, khiphop lovers, fangirls and survival show fans ( in this case i'm all 3 ). From good rapping, top-notch stages, handsome oppas and dongsaengs to spazz over
to good editing, sound editing and camera work. I have to mention evil editing which is at its best.  A lot happened already, i`m not that thrilled with events that occurred in past few episodes but oh well its show and all of them will be out eventually. As everyone else i too have my faves. Lets say i am team AOMG and I hope that BewhY or C Jamm will win this. But i`ll give advantage to BewhY.

Among trash unnies only me and Oni watch SMTM5 so we were talking about recaping this for too long. After doing part 2 review of previous episodes we`ll do recaps for final episodes every week, stay with us. 
Show Me The VOni!
*Show Me The VOni= Bannyah's (Vtrap) and Oni's commentary*
Oni: 😂😂😂 I was watching SMTM
 Bannyah: Do you like this ep?
 Oni: It was just okay😂😂😂 I like Juno though
 Bannyah: Hahhahahhah i knew it XD He's 😍

 I saw spoiler that Taewoon is still competing
Oni: Taewoon? Which one is him? And why do u give me spoilers?😂😂😂
Bannyah: Zico's bro, bcs it's stupid spoiler and i can't believe he's stil there
xDDDD
Oni: Aaaaah hiiiiim. Not hiiiiim he's bad 😂😂😂😂 Luck?

Bannyah: He suck 😂😂😂
Oni: Mian Zicoya, I like u though 😂😂😂😂
Bannyah: Omg I hope Myeondo is still in bcs he's in battle with him in ep4 preview
Oni: I hope thats evil editing 😂😂😂
Bannyah: Ahahha I hope that too xD
Oni: Was it Bewhy? Versus someone and they said its edited so it looks like they competed against e/o in the preview 😂😂😂😂
Bannyah: Bewhy versus who?
Oni: I forgot 😂😂😂😂 But he's good too Lol lol
Bannyah: Idk im not reading articles i just look at pics , and accidently read who was eliminated in ep5 xD But I won't tell you dont worry xDDDD
Oni: Good keep it to yourself 😂😂😂
Note: All spoilers i mentioned in chat were false so yeah i was surprised watching episodes 4 and 5 and was strucked by unexpected events.